The Berentzen Group is a beverages company based in Germany. Segments are Spirits, Non-Alcoholic Beverages and Fresh Juice Systems. They develop, produce and market beverages from spirits to mineral waters and soft drinks and fruit presses for fresh-pressed orange juice. With well-known brands like Berentzen, Puschkin, Strothmann, Bommerlunder Doornkaat, Mio Mio and Citrocasa, the Berentzen Group is present in more than 60 countries across the world. Recently they acquired Goldkelchen, an Austrian premium cider brand.
The companies headquarter includes various historical buildings which are also used for events and attracts 35,000 visitors a year. This unit is hit strongest by Covid but contributes little to the company's performance however it is good for marketing to promote the brand and engage within the community.
Major markets are Germany, Austria and Turkey.
Revenue by region:
The business has been impacted by covid due to lockdowns, pub closures and event cancellations which interrupted their quality growth but this should be only temporary.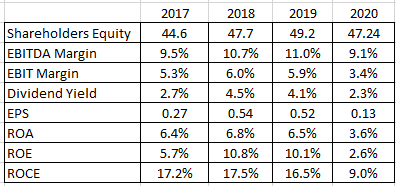 The key ratios:
Share Price 28.04.2021: EUR 6.00
Market Cap: EUR 56.73 Mio
Enterprise Value: € 41.3 Mio
Price/Book: 1.17
P/E 2020: 46 and Forward P/E: 22.6
Price/Cash Flow: 8.7
Shiller P/E: (S&P 500 Shiller P/E:37.06)
EV/EBITDA 3.20 very low, industry average 15.
EV/EBIT 6.50
Current Ratio: 1.12
Quick Ratio: 0.63
Dividend Yield: 2.3% (Payout 99%); Dividend: € 0.13/share
Dividend Growth 5 Years: 0 – Growth until pandemic from EUR 0.2 to 0.28 (2015-2019)
ROIC: 16.5 % and WACC: estimated 6.5. – Using ROIC 2019 as 2020 was exceptional due to pandemic (2020 ROIC= 9% > still above WACC)
Beta: 0.34 vs. DAX
Gurufocus:
Piotroski F-Score 5
Altman Z-score 1.74
Financial Strength 6 of 10
Profitability Rank 5 of 10
Valuation: 8 of 10
Price Graham Number: 1.85
Valuation estimations on various models:
Gordon Dividend Growth Model (Fair Value): € 9.71/share.
EV/EBITDA valuation: € 7.67/share – on historical measures and fair value in comparation to peers € 11.33/ share.
Discounted value based on FCF 2020 (8.3 Mio), mixed scenario growth 1-5% next 5 years slowing down to 3% after and discount rate of 10%: € 12.2/Share.
Below valuation matrix assuming CF 3% CAGR over next 5 years with various WACC and terminal growth rate options: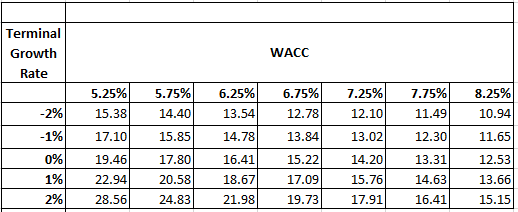 Positives:
Significantly undervalued on various valuation methods offering massive margin of safety with discounts of up to 50%.
Some strong brands like growth driver Mio Mio.
Growing nationally (Mio Mio expansion south Germany).
International expansion with Goldkehlchen acquisition. Expansion into cider market seems to be a smart move as it is expected that the global market will grow by 3-6% annually (above beverage industry) and the CEO expects an double digit growth for Goldkelchen.
Very established brands and company with 250 years history.
Margins remained constant despite revenue decline.
Managed to generate positive cash flow during pandemic despite massive hit in industry. Management delivered above market expectations.
Good cash position.
Very cheap vs. peer group.
Strong ROIC indicates the company creates good shareholder value.
Negatives/Risks:
No revenue growth over past years.
Exposure to Turkey but less than 2% of total revenue and country should be at bottom of economic cycle.
EBITDA margins (17%) suggest lower moat/pricing power as peers like Diageo (35%) Ko (38%).
No indication that management owns shares. Shares don't seem to be part of management compensation – I prefer companies where the leadership team has skin in the game.
Conclusion:
On the first sight it looks like the company is a value trap with shrinking business but diving deeper it seems that they managed to turnaround the business despite the massive cash outflow to Aurelius as part of the restructuring. Berentzen had the tendency to disappoint the market until the new CEO came into office in 2017. Profitability is improving and so is cash. Management acted quickly during the pandemic by preserving cash, reducing costs leading to a positive cash flow. This allowed the company to reward shareholders with a small dividend while expanding their business internationally.
There is a massive upside if company manages to grow.
Mio Mio and Goldkelchen cider expansion could support growth for the coming years.
Short term recovery of Turkey and return to normal from the pandemic are additional drivers.
Disclosure: I'm long Berentzen. No investment advice. Do your own research.
Additional info: CEO interview 23.04.21 (in German) https://www.nebenwerte-magazin.com/general-standard-berentzen-vorstand-im-interview-wenn-es-in-deutschland-soweit-ist-werden-wir-da-sein/