I updated this page and removed all ratings to avoid regulatory issues since I'm not a financial advisor.
Portfolio as of 31.12.2021
25 largest positions in alphabetical order: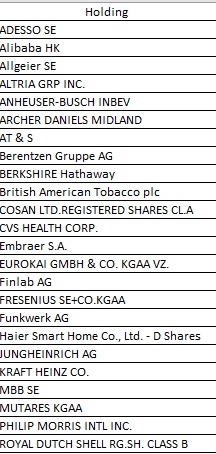 10 largest dividend payers in 2021 (by total amount received):
British American Tobacco plc
GERDAU S.A.
COSAN LTD.
Royal Dutch Shell plc.
ALTRIA GRP INC.
PHILIP MORRIS INTL INC.
STRABAG SE
KRAFT HEINZ CO.
BHP GROUP PLC
EUROKAI GMBH & CO. KGAA VZ.