I decided to purchase another stock during the last week's downturn which I constantly had on my watchlist: Archer Daniels Midland Company (ADM). I had purchased some shares during the great depression in 2008 or 2009 because I liked their low valuation at that time, the industry and their business model. I then sold the shares a few years later with a good profit and reinvested the capital in other undervalued assets with better upside potential. After the massive share price drop over the last 3 months it was time to look at ADM again.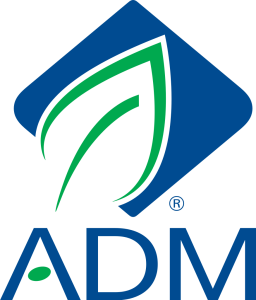 ADM is an American agricultural company which acts globally, in more than 140 countries and employs 33,000 people. It is one of the world largest players in their industry. The main businesses are food processing, commodity distribution and logistics. Their value chain includes more than 460 crop procurement locations, 300 ingredient manufacturing facilities, 40 innovation centers and the world's premier crop transportation network. In 2014 they acquired WILD Flavors GmbH and Specialty Commodities Inc., a speciality distributor with a fast growing, non-cyclical and high profit margin business. Besides food and ingredients it also produces bioenergy with focus on bioethanol and biodiesel. The company has a history of more than 100 years and elected the ninth CEO last year Juan R. Luciano, who holds an industrial engineering degree and joined the company in 2011.
Over the first 9 months of ADM's 2015 fiscal year, the Oilseeds Processing segment had generated 49% of the company's operating income. Agricultural Services and Corn Processing produced 21% and 19% of the company's operating income. The WILD Flavors & Specialty Ingredients segment was responsible for 10% of operating income. The companies business model heavily depends on commodity prices which have fallen over the last quarters and this has probably raised investor concerns which explains the recent share price drop of over 40%. However investors should not forget that the agricultural business/food processing industry are one of the safest sectors with an upside potential, taking the global population development into consideration. The UN expects population to grow from 7 billion to over 9 billion over the next 30 years. Here is where Archer Daniels Midland Co. plays an important role – supplying food to the world.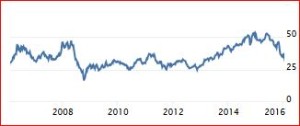 Price $31.50 (15.01.2016)
The key ratios:
Market Cap: $ 18.8 B
Price/Book: 1.12
P/E: 10.88 and Forward P/E: 10.37
Price/Operational Cash Flow: 12.12
Price/Free Cash Flow: 37.07 (Price/Projected FCF 0.74)
Shiller P/E: 10.72 (S&P 500 Shiller P/E: 24)
Current Ratio: 1.63
Quick Ratio: 1.11
Dividend Yield: 3.4% (Payout 0.37)
Price Graham Number: 0.77
The financials are very solid with low debt level and good liquidity. Revenue growth slowed down over the last 3 years with a drop last year mainly resulted of falling commodity prices. The company focused on higher profit margin businesses which translated into a small earning growth despite revenue decrease. The ratios are mostly below their historical figures indicating that the share price is currently cheaper than in the past. The Graham valuation shows that the current stock price has a 30% upside potential before reaching parity from their current price level. This provides a very good margin of safety. Once shares move upwards they usually tend to overshoot, meaning the upside potential could be much higher and does not include any additional earning growth. Using the discounted free cash flow model (DFC) ala Benjamin Graham we will get a margin of safety of 17% which is very good for a large cap with an impressive dividend history.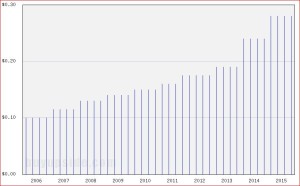 Archer Daniels Midland is considered as Dividend Aristocrat which has been increasing dividends for 41 consecutive years and paid dividends since 1927. The chart is showing the dividend growth over the last 10 years from $0.10 to $0.28 reflecting the power of compounding growth. Their annualised dividend growth rate since 1983 is an impressive 13.85%, beating by far many dividend aristocrats. The current yield of 3.4% is way above the S&P 500 average and looking at their payout ratio of 37%, we can see that the dividend is very safe and their is plenty of room for further growth over the next years. Using the historical dividend growth rate of 14% and projecting it forward, we would get in 10 years a dividend yield of 13% for an investment made today.
ADM's Shiller PE indicates that the shares are currently more than 50% cheaper than the average within the S&P 500. Inverting the Shiller PE ratio we get an annual return of 9.3% which makes it a very good investment in this current low interest environment and outperforms many investment funds over the long run.
To sum up everything, I think that ADM provides a very interesting entry point at current price levels for the long term investor who wants to invest in an high quality business and is seeking strong cash flow growth through dividend payments.
Disclosure: Long ADM