As part of my portfolio restructuring I decided to close my position in Archer Daniels Midland (ADM). You can read more about the company here and here. Sell price €84.50 ($93). Total return of the investment in 2016 was an estimated 23% (20% capital gain + 3% annual dividends) and exceeded my expectations in this "boring" dividend aristocrat. (Real return was much higher as I increased the position when the pandemic started).
Reasons for sale:
Overvalued on historical measures using various valuation metrics.
Low dividend yield for my dividend portfolio-there are better opportunities available with higher yield and Dividend growth rates.
Cyclical business experiencing tailwind driven by short/mid-term events (war and supply chain disruption)-as a result it could be near top of cycle as current events might be priced in.
Portfolio concentration and I'm still long the agriculture sector with several positions.
As you can see the sale was a very personal decision and that there is nothing wrong with the company. ADM is a high quality company and a dividend aristocrat. I just believe that my total return will be better if I increase another existing position which has more upside potential over the next 5-10 years with less risk. Near term ADM might perform very well if the war keeps dragging on, inflation stays high and supply chain disruptions keep pushing commodity prices higher. However I see there also evolving risks such as higher costs reducing their margins, unwise capital allocation in terms of overpriced acquisitions to deploy the high cash inflows.
With the proceeds I increased my position in China Mobile (~HKD 55/€6.20) offering 7+% dividend yield. The company just increased their dividend by more than 20% and management stated they are planning on more returns for shareholders over the coming years. It's an investment in EM but the second largest economy in the world and a defensive industry. The company has a strong cash position and generates an enormous amount of free cash flow. It's also the largest mobile network company in the world by subscribers.
Here are some numbers from Morningstar: China Mobile seems cheap on historical measures and vs. industry.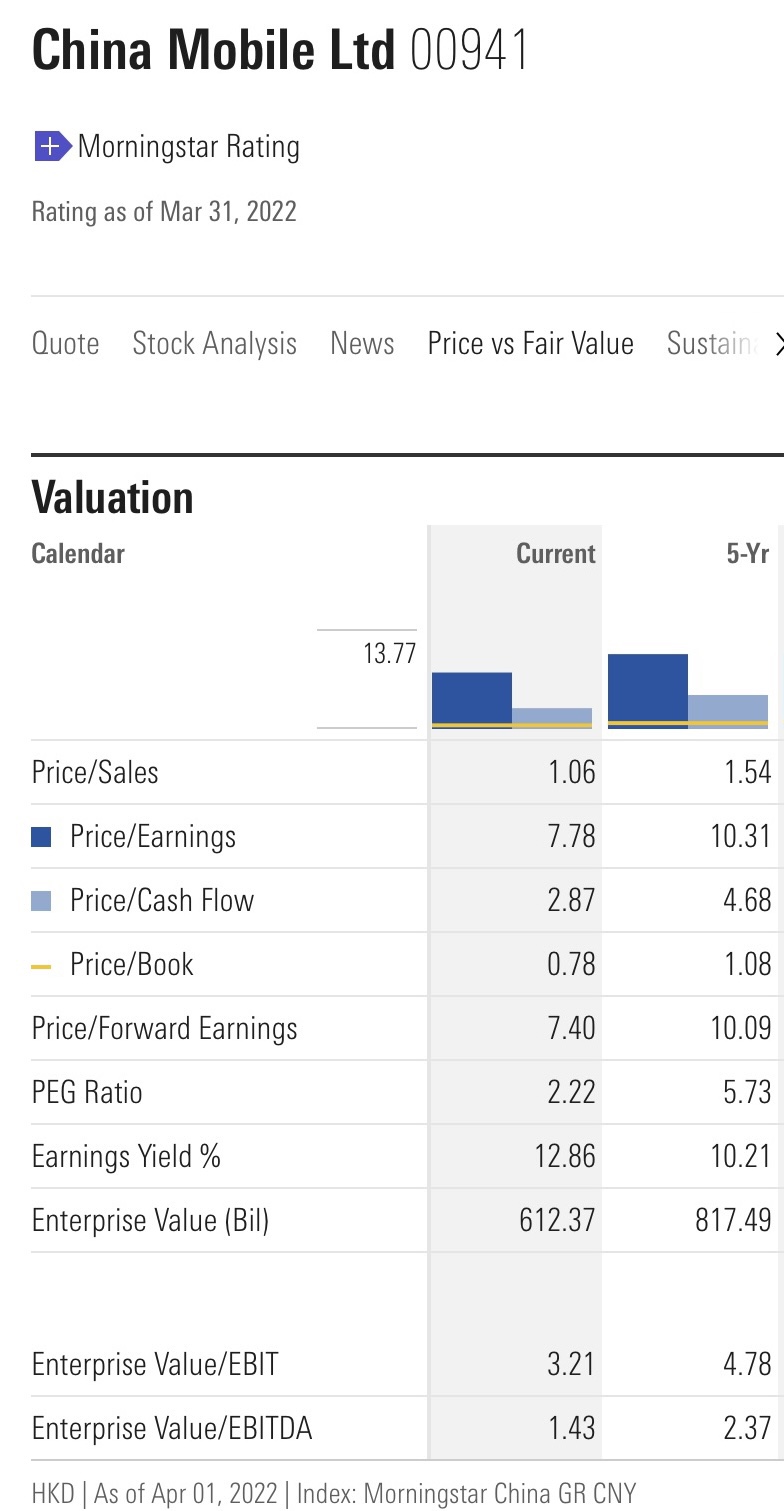 I might increase this position further if the share price goes down a bit more. Thanks for reading.
Disclosure: Long China Mobile. No investment advice. Please do your own research.