Following my recent post about Fresenius. I went deeper into their financials trying to understand why the share price dropped over the last years. In 2017 they acquired a Spanish hospital group (Grupo Hospitalario Quirónsalud) which increased Fresenius's debt by a lot. The share price decline started since. Margins are declining since too. Then they had another larger acquisition attempt in 2018 which they terminated last minute – thankfully. It seemed to be a bold decision at the time. The CEO was heavily criticized for wasting time and money on the acquisition and then pulling out last minute. I think this shows that he has a flexible mind, is willing to admit mistakes and moves on (a good ability). Later it turned out that the target (Akorn) inflated their financials and their share price collapsed after Fresenius terminated the takeover attempt. The market is now concerned about their growth by acquisitions strategy as it seems they didn't add much quality since 2017. Margins, ROE and ROIC are declining. Following their acquisitions debt and goodwill were increasing. They started only last year with some small goodwill impairments.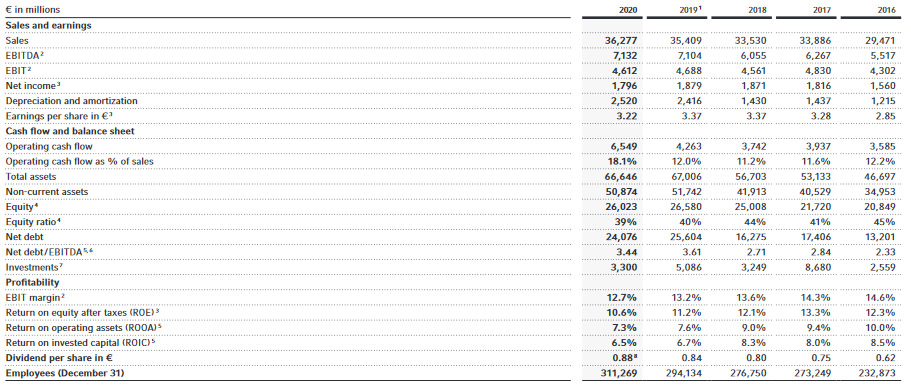 Other successful holding companies which are growing with acquisitions like Danaher have also large and increasing goodwill on their balance sheet and it doesn't stop the market pushing their share prices higher. I believe if Fresenius proves that they can create shareholder value when acquiring other companies then trust will return and the share price should rebound nicely.
Another concern is probably market risk as some of the acquisitions were in Spain (Quirónsalud + Eugin Group). Spain is seen as one of the structural weaker economies in Europe adding additional uncertainty. Uncertainty is not well liked by the market.
The later acquisition of Eugin group from NMC Health (which went into administration – triggered by COVID) adds some additional uncertainty given their recently not so successful takeovers. However, I think if this gets approved Fresenius got a good deal by scooping a growing business from a company running into financial difficulties. The acquisition will cost an expected EV/EBITDA 11.4 which is not bad under current market condition for a business in a defensive industry and growing yearly by 10%. It would make Fresenius Helios become the leading international fertility provider.
Valuation estimations on various models:
EV/EBITDA valuation: € 55/share – on historical measures and fair value in comparation to peers.
Gurufocus Fair Value: €57.04/Share
Implied equity value: at zero growth in 2021 (more likely higher) and thereafter 5% annual CF growth and WACC 6.5% until 2025. Terminal growth rate 2%: € 69.15.
See below matrix for different WACC and terminal growth rate assumptions: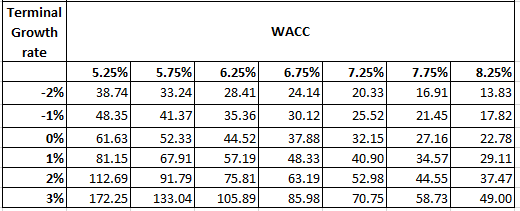 Today's share price assumes no terminal growth for the business. This is very unrealistic given the companies acquisition strategy and international expansion, the secular trend of an aging society focusing on better healthcare and an increasing inflation. The company announced that the business is meaningfully impacted by the pandemic. This is only temporary as the pandemic will pass on due to increasing vaccination rates and development of treatment methods. I think Fresenius SE offers a good margin of safety at today's share price with a discount of 41% to my estimated implied equity value. Recently I used the opportunity to purchase shares of this European dividend aristocrat.
Fresenius SE ISIN: DE0005785604
Share price 30.04.2021: € 40.86
Disclosure: I'm long Fresenius SE. No investment advise. Please do your own research.