Berentzen published their H1 2021 report and it's time to have a look how the company is managing the pandemic. (To learn more about the company please check my previous post or the companies website.)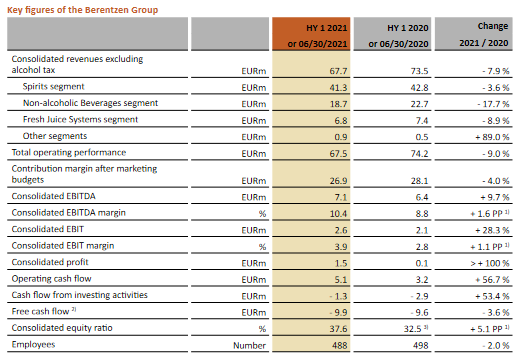 We can see that revenue decreased vs. H1 2020. Main reason was the termination of contract bottling from Pepsi. The contract was low margin and the discontinuation increased Berentzens profitability. Excluding this, revenue decreased "only" by 3%. The fresh juice business was most impacted by the pandemic (-8.9%) with a drop of 19.4 % in revenue for their fresh juice systems.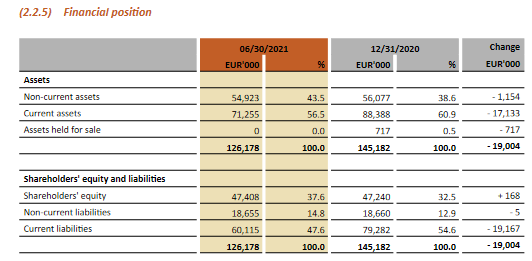 Shareholder equity increased slightly while liabilities have been reduced. Net cash has been increased > therefore no liquidity issues.
Highlights from the report:
The management kept full year guidance and expects that the seasonally strong Q4 will drive the business further. Operating cash flow is anticipated to grow from € 9.2 to € 11-13m and the financial position to improve.
Pro:
Mio Mio keeps growing (+14%).
Growth in EBITDA (+9.7%), EBIT (+28.3%) and impressive margin improvements despite pandemic.
Operating cash flow up (+56.7%).
Attractive valuation (EV/EBITDA 4.5 – peers 9-12; P/B 1.6 vs. Peers 1.9; fwd. PE 2022: 13 vs. Peers 20)
Net cash positive position.
Currently most impacted segment fruit juices is anticipated to recover due to long term trend of healthy diet.
Con:
Management increased their salary while reducing staff and the pandemic impacting the business – this is my biggest concern – I wish they had more blood in the game and would purchase some shares with the extra pay they are getting. This could boost shareholder trust and subsequently increase the share price (which would also give managements share price linked bonus an additional kick=win win).
Revenue decreasing – less of a concern since profitability grew at the same time but in general it would be nice to see the company growing at all metrics.
Negative free cash flow – No concern as outflow specifically from seasonal reduction in alcohol tax liabilities.
Conclusion:
The company delivered very solid financials and capital efficiency is improving despite pandemic challenges. I see a fair value between 8-10 Euro per share (current share price: € 6.20 = upside 30-60%). The strong financial position limits downside risk (Warren Buffet rule number one: "Never lose money"). An additional upside catalyst would be a return to a pre-covid world with events and travel back to normal. As the pandemic should pass, I feel very comfortable with my current position receiving an annual 2-3% dividend while waiting for the market to recognize the mispricing. I will increase my position if I see insider purchases-the only reason holding me back is that there is no indication that management has skin in the game other than their salary which has been increased in difficult times.
Disclosure: Long Berentzen. No investment advise. Please do your own research.
Additional analysis can be found on the companies homepage: https://www.berentzen-gruppe.de/en/investors/share
Investor reports: https://www.berentzen-gruppe.de/en/investors/reports